A Personal Note Before The Excitement Starts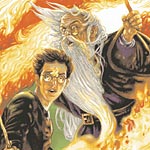 Jun 19, 2003
Uncategorized
I'm not sure I'll be able to get back here before we go into "radio silence" to read our own copies of OotP, but I wanted to say a few things before we enter this new era.
I joined the fandom on July 7 around 3pm, when I first posted on Harry Potter for Grownups after reading an article in the Washington Post the day before the release of Goblet of Fire. I'd been a fan of the books since the fall of 1998, and was thrilled to have other grownups to chat with about the plot, the characters – and within a few weeks, the fanfic too. By the fall, I was writing fanfic, and during the winter of 2001, BK invited me to join TLC as a correspondent, and in the summer of 2001, I became one of the founders of FictionAlley. Summer of 2002 found me on Team Nimbus – 2003… and other than attending the first symposium next month, who knows exactly what wonders the summer of 2003 will bring?
We're all about to jump into this brand new era, pretty much in tandem with each other. And no matter what our shipping preferences are, who our favorite – and lesat favorite – characters may be, and who our money is on in the death pool, if you're reading this, then it's likely that you'll be reading OotP within the next few hours – or at least, as soon as you can.
And it's going to be exciting, isn't it?
To those who I've shared my thoughts with over the years, to those who've read my fanfic, to those working on Nimbus – 2003 and on all the sites I love to visit and post on… Thank you for making the waiting interesting – even if it wasn't exactly easy.
To all the people who sent me notes and posted here when I started my (somewhat short-lived) maternity leave this month – thanks again to each of you! You're all sweet and wonderful!
And to those who I've disagreed with over the past three years – I hope you enjoy every minute of OotP. Even if we've been on different sides of certain issues, topics, debates and discussions – even if we've had a falling-out or two – I hope you have a great weekend with your copy of the book.
No, I'm not going to do another filk to One Day More, like I did the day before the auction back in December. I'm just going to sit tight, and look forward to cracking the spine of that blue-covered book with a big bowl of popcorn by my side. And I hope you enjoy your copy as much as I plan to delight in mine.
Have a great weekend!