Is the Release of OotP Understated?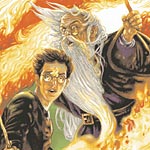 Jun 19, 2003
Uncategorized
The Economist says yes!
Mr Potter's world is a curious one, in which things are often not what they appear. While an excitable media (hereby including The Economist, happy to support such a fine example of globalisation) is helping to hype the launch of J.K. Rowling's fifth novel, about the most adventurous thing that the publishers (Scholastic in America and Britain's Bloomsbury in English elsewhere) have organised is a reading by Ms Rowling in London's Royal Albert Hall, to be broadcast as a live webcast. Hollywood, which owns everything else to do with Harry Potter, says it is doing even less. Incredible as it may seem, the guardians of the brand say that, to protect the Potter franchise, they are trying to maintain a low profile. Well, relatively low.
The article goes on to discuss the small number of licenses for HP merchandise, and how Warner Bros. ties things to the movies, not to the books. It notes that other than the novel itself, there is no merchandise specifically created for purchase along with OotP (although things like stickers and hats are being handed out by the publishers for free).
The Boston Globe has a similar story in today's paper.