Profile of a Potter Fan: Britta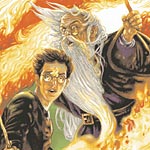 Jun 19, 2003
You may recall I solicited emails from "die hard" fans on behalf of NBC's "Weekend Today" show. Well, I wanted to profile some of the people sent me emails and Britta is one of the biggest fan's I've ever met.
Last year for Harry's Birthday, Britta held a HUGE Harry Potter bash. Her invitations were beautiful, decorations startlingly like the real thing, costumes amusing, and food delicious.
I have to say that out of all the cool things I've seen come out of Harry Potter fandom, this party has to be one of the coolest. This year, Britta is hosting a "Year Five at Hogwarts" party at her house on Saturday and she'll be going as Britta Skeeter.