TLC, Other Sites Make NY Times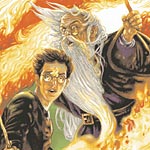 Jun 19, 2003
In today's Circuits section of the New York Times, there's an article profiling three Harry Potter sites that appeal to grownups (and teens as well), including TLC, FictionAlley's fanfic and message board sections, and Harry Potter for Grownups.
B.K. is featured for his work on the MUARI events, and I'm quoted as follows:
"A lot of people are trying to finish works-in-progress before the book comes out…. They want to get their pet theories on paper so they can see where they got it right or how far wrong they were."
The article also notes that Yahoo reported that more than 44 percent of Potter-related searches in May were by adults.