BBC Seeking Potter Fan from Northern England!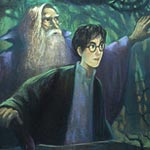 Jun 02, 2003
Posted by Melissa Anelli
Uncategorized
Are you a rabid Potter fan who lives in Northern England? Specifically North Yorks, Co Durham, Cleveland/Teesside, Tyne and Wear and parts of Cumbria ? If so, the BBC wants to interview you for a possible television feature. EMail us your name, city you live in and email address where you can be contacted and we'll pass it onto them. Kids – make sure you have your parents permission first!