Lexicon tomorrow about the book release tonight!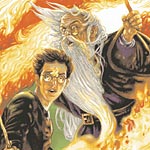 Jun 20, 2003
Posted by Melissa Anelli
Uncategorized
Steve Van Der Ark is set to be on Weekend Today on NBC tomorrow, sometime between seven and nine in the morning, talking about the Lexicon and tonight's book release. And if anyone can do a video capture for him, that would be great – but don't email it to us without sending us a note about the size of it first.