USA Today: Tracking Potter's readers' growth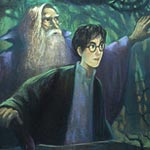 Jun 05, 2003
Thanks Christopher, for pointing us to this USA Today article, which discusses the Potter audience as it ages, and expectations for Phoenix among that population. Quotage:
Erin Meyers, 18, of Tyler, Texas, is excited, but she won't be wielding a wand on June 21. Having begun the series at 15, the incoming Emory University freshman relishes the way "it brings back childhood" and its desire for magical powers. Some of her friends think the Potter books are juvenile, but that's usually because they haven't read them, she says.
And thanks to Steve for pointing out that this list of the best Potter sites on the Web that accompanies the article: not only did we make the cut, but we're alongside some of our favorite sites – Mugglenet and the incredible Harry Potter Lexicon among them!