Dementors and PoA posters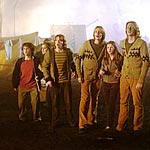 Jul 10, 2003
Uncategorized
Going to try and debunk/ clear up a few things:
For many months, this picture has been floating around the net as a Dementor pic. Our multitude of reasons for believing it's fake have been deleted, because Masha has alerted us that our friends at The One Ring.net have found the actual picture this photo was ripped from. (I tried, but I am not schooled in the ways of The Ring…) They're not Dementors. They are Ringwraiths. Nazgul. Scary blackrobed creatures of Peter Jackson's brilliant film adaptation of JRR Tolkien's Lord of the Rings trilogy. (The admin of Snitchseeker.com admitted it was a Photoshopped image, as well – but made it clear they never intended it as anything such. See the original pic here. Readers sort of jumped to conclusions. No, that's never happened among HP fans before…)
There is also a picture of Gary Oldman making the rounds, with his face half cut off and wearing what appears to be dredlocks, designed in what is posing as an HP3 poster. No way. That's all I've got to say on that one.