Donate Info for the National Braille Press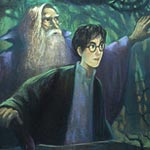 Jul 21, 2003
A while back, we posted a story about Harry Potter in Braille, and you all wondered how to donate to the National Braille Press.A wonderful lady named Cheryl saw your queries and contacted the NBP, calling HP fans a "great and generous group" and inquiring after donations. If you'd like to donate to this wonderful cause, and help Harry Potter publish in Braille, here's how you can do it, from an NBP rep:
Naturally, we'd be thrilled to have some additional assistance.

We do not yet have any capability to accept online donations. Our new website is expected to go live on August 8th: www.braille.com. Until then, people can call my colleague Jennifer Stewart and offer their credit card number over the telephone: 888-965-8965, ext. 28.

We also welcome snail-mail to:

National Braille Press
Development Department
88 St. Stephen Street
Boston, MA 02115

Thanks ever so much for helping us spread the word!
Thanks so much to Cheryl, and to everyone who will be donating. As we know first hand, even a dollar makes a difference! I'll be making a few differences shortly, I hope you'll join me.