Happy Birthday, Harry!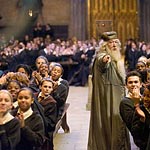 Jul 22, 2003
Uncategorized
Happy Birthday to Daniel Radcliffe – our young Mr. Potter turns 14 today (July 23, as it is right now in the UK). Many happy returns.
If you're looking to send him a gift, in lieu of flowers or giant teddy bears that ask Dan to marry you on your behalf, go here to make a donation to the National Autistic Society. Sponsored by DanielRadcliffe.com, donations go directly to the NAS charity, and everyone who donates is issued a raffle # (prizes include "the David Copperfield DVD, a very nice, very large glossy photo of Daniel, 2 5×7 high quality photos of Dan from New York HPCOS premiere,… a Holly Wand donated by Alivan's, … and a Daniel Weekly Calendar from the Japanese Screen magazine. ") The raffle takes place on July 23, so we're just under the wire, but with such a great cause it's never too late.