ALL the Newsweek Pics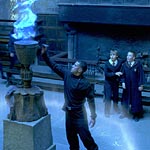 Jul 28, 2003
Uncategorized
We've got 'em, and we've got them scanned, and it includes our first real glimpse at an in-character Sirius. Much better. And Gambon as Dumbledore – check out the rings. This'll tide us over nicely while we wait for some hi-res!

Alfonso Cuaron and Emma Watson

Alfonso, Rupert and Dan in what appears to be The Leaky Cauldron (yay!)

Dan and Alfonso on the Hogwarts Express

Hermione and Harry – are Dementors approaching? Probably. (Ooh. Fantastic picture.)

Michael Gambon as a more "hippie"-esque Dumbledore

The trio, from the looks of it sneaking out of Hagrid's hut

The Shrieking Shack – including Sirius (Ah – in character – perfect). Keep in mind the picture of Lupin is small and appears to have caught him at a bad moment. I wouldn't judge the acting on this pic (or at least I hope not to).
Enjoy!