Potter Braille Drive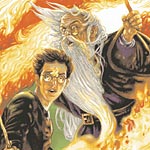 Jul 03, 2003
Thanks Petra, for this item about the National Braille Press's efforts to provide Potter books to the blind:
Here's a chance for HP fans to help make OotP accessible & affordable to the community of Braille readers: on Sat., 7/26/2003, assemble and box volumes of OotP in Braille for National Braille Press in Boston, MA.

Volunteers are crucial to NBP's efforts to provide Braille readers their versions of publications quickly and at the same price as the print copies. If you are willing and able, please go to here for info on the 7/26 project (7/11 is full). The deadline for signing up is 7/17.

Won't be in Boston that weekend? Check out www.braille.com for ways you can help support literacy through Braille!
A worthy cause indeed. If anyone goes, be sure to take pictures and send them to us!