King Gives OotP an "A"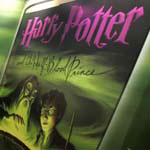 Jul 05, 2003
Uncategorized
Thanks James, for alerting us that Stephen King's review of OotP that appears in the July 11 issue of Entertainment Weekly is online. You'll need to be either an AOL member or have a special code to get to that link. On it is a special web-only download of King's review in his own handwriting. To quote a small bit:
1) Is Harry Potter and the Order of the Phoenix as good as the other Harry Potter books?

ANSWER: No. This one is actually quite a bit better. The tone is darker, and this has the unexpected – but very pleasing – effect of making Rowling's wit and playful black humor shine all the brighter.
One of King's only nitpicks is on JKR's penchant for adverbs in dialogue attribution (but he says it's endearing), and he answers the everpresent question of "are there spoilers in this review"? with "Perish the thought!" Now where have we heard that before…

And my favorite bit (sorry, it's an excellent review – must highlight): "By the time we finish Order of the Phoenix, with its extraordinary passages of fear and despair, the distinction between 'children's literature' and plain old 'literature' has ceased to exist." Precisely.