Report Says GoF to be One Movie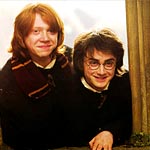 Aug 12, 2003
Uncategorized
Thanks to the many readers who pointed out the end-of-page paragraph that was slipped into the Newell appointment announcement, and which holds quite a bit of important information:
Afraid of alienating die-hard Muggles by cutting scenes, the studio and scribe initially had talked about breaking the book into two separate films to be released in the same calendar year, à la The Matrix Reloaded and Revolutions, but Warners has now opted for a single movie.
So there you have it. 760 (American) pages. One movie. Good luck Steve Kloves… We'll do an extra check ourselves and let you know if we hear anything different.