Mrs. Weasley 2nd Best Movie Mum!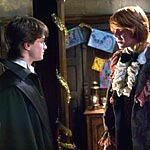 Aug 18, 2003
Posted by Melissa Anelli
Uncategorized
Mrs. Weasley took second place in recent poll conducted by Blockbuster video. The movie portrayal of Mrs. Weasley by Julie Walters came in second to Julie Robert's Oscar-winning role as Erin Brockovich.
Thanks for the tip, Jenny!