Move Over A.S. Byatt, Bloom is Back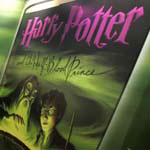 Aug 05, 2003
Uncategorized
Sylvia sent us this article from The Atlantic Online in which literary critic Harold Bloom again spouts off about Harry Potter, calling it "rubbish". A quote:
I went round to the Yale bookstore and purchased an inexpensive paperback copy of the first volume. I could not believe what was in front of me. What I particularly could not bear was that it was just one clich� after another. In fact, I kept a little checklist on an envelope next to me, and every time any individuals were going, as you or I might say, to take a walk, they were going to "stretch their legs." At the fiftieth or sixtieth stretching of the legs, that was too much for me.
Editorial note, solely for clarification: There is exactly one stretch of any leg in Harry Potter and the Philosopher's/Sorcerer's Stone.