Bloopers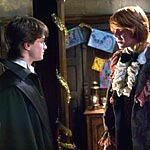 Aug 08, 2003
Uncategorized
Enjoy finding movie bloopers? This article mentions Harry Potter:
The first two Harry Potter films each had 107 bloopers, including a visible cast on the broken wrist of Emma Watson, who plays Hermione, and the wires controlling an owl and a giant spider in the sequel.
Editor's Note:
MovieBloopers.com has reader submitted bloopers (some of which this editor noted are not bloopers, just changes for the movie); MovieMistakes.com seems to have a more comprehensive list for both the first movie and the second.