Dover Celebrates Banned Books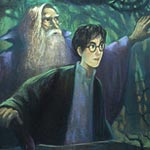 Sep 19, 2003
Uncategorized
The Dover County Library in Dover, NH is hosting a Banned Books Week (Sept. 20-27).
The most challenged and/or restricted reading materials have been books for children. While most families nationwide have embraced the Harry Potter series by J.K. Rowling, they are the most frequently challenged titles in the country.
Editor's Commentary: I know it's a day early, but happy Banned Books Week everybody!