French OotP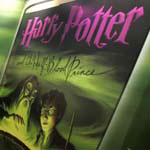 Sep 23, 2003
Uncategorized
Amazon.fr is accepting orders of Harry Potter and the Order of the Phoenix, giving Harry fans yet another cover to discuss.
Thanks to Winky for the link!
UPDATE: François wrote to tell us that the French editor did not release the official cover photo prior to publication of the fourth book, so it's likely that this cover is simply a 'stand in'. Thanks, François, for the info!