Exclusives: First GoF Filming Pictures and GoF Shooting Script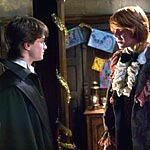 Aug 07, 2004
Uncategorized
TLC Reader Tracy went to Ashridge, where we recently reported that the filming on the Portkey scene was going to be taking place, and came back with a whole lot to show for it.
First, we have the pictures, the first GoF filming pics which will return when our server load eases up.
She was also told that there was going to be a "tree stunt" filmed using this tree.
Update: Mugglenet has some really great quality pics of the same day! Check it out!
Tracy was also handed five pages from the Goblet of Fire shooting script, detailing the First Task, which was filmed the week prior. We have independently confirmed that they are authentic. Don't read if you don't want to be spoiled.