One Year Ago Today…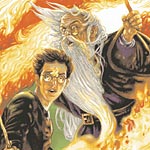 Jan 15, 2004
Uncategorized
A little "Where Are We Now" for you: It was a year ago today that long-baited Harry Potter fans breathed a massive sigh of relief. After two-and-a-half long years of waiting for it, the release date for Harry Potter and the Order of the Phoenix was revealed at last, quoting these immortal words:
The hottest day of the summer so far was drawing to a close and a drowsy silence lay over the large, square houses of Privet Drive…..The only person left outside was a teenage boy who was lying flat on his back in a flowerbed outside number four.
and
Dumbledore lowered his hands and surveyed Harry through his half-moon glasses.'It is time,' he said 'for me to tell you what I should have told you five years ago, Harry. Please sit down. I am going to tell you everything.'
Feeling nostalgic enough? Sharp Leaky readers will also remember it was Editor Heidi's birthday that day – as it is today. Happy Birthday Heidi!