Teen Angst at Hogwarts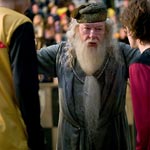 Jan 17, 2004
Uncategorized
The Los Angeles Times has posted five new pictures from PoA to go with their new article, "Teen Angst at Hogwarts" in the Calendar Live section. (Click for larger versions):
Much, much thanks to Mariannec and ix for getting these to us!
Below is a sum-up of the new information and quotes in the very excellent article.
The article opens:
GLENCOE, SCOTLAND – Daniel Radcliffe, or Harry Potter to you, isn't talking about casting spells or Lord Voldemort. Instead, the 14-year-old is lusting after Cameron Diaz. "I could fly to Los Angeles and introduce myself," Radcliffe says on the set of "Harry Potter and the Prisoner of Azkaban." "I heard that she just broke up with her boyfriend."
…and goes on to talk about Dan talking about his favorite bands of the moment (Blur and the Darkness).
"Rather than just idle banter, the offscreen "Harry Potter" conversations are really about what's going on in "The Prisoner of Azkaban," which, if you strip away its Quidditch games and Patronus charms, is what it's like to become a teen."
The article notes that the kids are growing faster than the characters they depict, and that GoF might be their last film – but TLC says it also might not. It's still 50/50.
"Radcliffe and Watson are not only taller but also handsome and beautiful, even under all the mud produced by a steady Scottish drizzle. 'It's wet and dirty and the kids are wet and dirty,' Cuarón says. 'Don't they look sexy?'
It talks about the choice of Cuarón as director, which is risky for a big budget studio like Warner Bros., especially when the movie will be released among summer blockbusters. It also says JKR had a personal petition to hire Brazil's Terry Gilliam to direct PS/SS.
Alan Horn, president of WB, on Cuarón's A Little Princess:
"That movie confirmed to me that he could live in the world of fantasy and children and not be treacly and also be a little bit dark…And in 'Y Tu Mamá,' he got such performances out of those two young boys. Now our protagonists in 'Harry Potter' are 13, entering puberty, and he understands that. The question was: Could he handle something of this size? It can be daunting."
Cuarón on taking the Harry Potter gig:
"I have to confess, I was a bit ignorant about the Harry Potter thing…Then they started to talk about it, and I was like, 'Yeah, well … I don't know.' Then someone said, 'Please, look at the material, because I really want you to give an answer.' So I read [screenwriter] Steve Kloves' script. And it was great. And then I immediately read the book. And I was, frankly, amazed by the book and the script."
Cuarón on directing in an established series:
"Everything is established, so I don't need to do exposition…Chris crafted with [production designer] Stuart Craig a really eloquent universe. And Chris already established all the rules, so pretty much I don't have to get into the matter of 'OK, Hogwarts is this. And you're a Muggle. And you're a wizard.'…By not having to do all this exposition, I can concentrate on character and the psychology of the characters."
It goes on for a while talking about how Cuarón couldn't recast lead roles or hire a new composer, etc., because the films were already established.
Columbus on producing PoA:
"I wanted to make sure that the film didn't stray too far from the world that the audience and the fans have sort of fallen in love with over the course of the first two movies…It's like putting nipples on the 'Batman' suit: It can get a little strange and a little weird to the audience…. If [the fans] have to adjust to too much change, they could have been turned off by the film."
Cuarón talked to filmmaking friend Guillermo del Toro for guidance before taking on the film:
"Guillermo had just finished directing 'Blade 2,' … And he said, 'Man, if you do it, I have only one piece of advice to give you: Don't try to do an Alfonso Cuarón movie. Try to serve the franchise. And by serving the franchise, you may end up doing an Alfonso Cuarón movie.' "
The article says the kids are united in holding Prisoner of Azkaban as their favorite book (at the point in production at which the interview was done, book five was not yet released).
More Cuarón:
"Harry goes through a journey where he realizes that demons aren't just things that go bump in the night but also can be painful emotions, worries about family, friends, the future, the monsters that lie within. And that's a classic teenage issue."
Dan Radcliffe on Harry:
"There's a lot of teenage angst in this one, probably more than the book…It's much more of an internal journey for the children, especially for Harry. And he's much more comfortable with confrontation, especially with [Professor Severus] Snape. He's a lot angrier. If you had all this stuff happening to you in real life, you'd be pretty angry too."
Emma Watson:
"Hermione's becoming a rebel…She's had enough of being pushed around and she's not going to take it anymore. There's a lot more girl power in the film."
David Heyman:
"I think the audience will see it as a relative of the first two but as a very distinct piece of work.
Columbus re: modern clothes in the movie:
"Jo Rowling had always intended the characters to be wearing contemporary clothes under the cloaks…When we first tried that on the first film, it looked like a bad Halloween costume, like they were going trick-or-treating. Alfonso wanted to try something else. It will be interesting. It certainly was Jo's original intent, so he's being a little bit more faithful than I was."
Production designer Stuart Craig:
"[Cuarón is] very interested in eccentric detail…Hagrid's hut, for example, is now peopled with 100 strange animals. Some of them are magical and bizarre, and some of them are bats and lizards. So Alfonso has taken on what already existed and was well established and it's been embellished with these extra riches of detail. The Leaky Cauldron in the first two movies looked like a period movie; it was a very antiquated and a bit Dickensian. [The Leaky editors rejoice! Sorry.] Now there is a range of characters there, in more contemporary clothes, and there's a dart board."
The article explains Cuarón's long tracking shots that will show more of Hogwarts then in the other movies, including long shots as the kids move from the Great Hall to their common rooms; it also says the filming in Scotland was aimed at better establishing the Hp world.
Michael Gambon on Cuarón:
"He reminds me of a kid, his enthusiasm, his mannerisms, his energy…He's always laughing around the set."
The article reveals that the budget swelled to $200 million, and that Y Tu Mama had only $5m to work with.
Cuarón:
"No matter how much money you have, you are always 20 percent short…You can be on a low-budget movie or a big-budget movie, but you always wish you had 20 percent more. There was a point where you just dream, do whatever you want to do. And working with Steve Kloves was about dreaming. And then there was the window of frustration, where you are told, 'This is the budget, and you can't do that.' But it was always about figuring out which movie we wanted to do with these resources and trying to fit everything into what I must say is a very healthy budget.

"It has been insane, but it has been good…These kinds of films are not so much about filmmaking. They are about endurance. They just go on forever. And you have to keep up the pace all the time. If you fall behind in editing, it affects all the other departments. It's like a marathon. Sometimes you're in a zone. But sometimes, all of your tendons ache.

"The whole goal of taking a franchise in a new direction is what keeps them alive….Jo Rowling said to me, 'Don't be literal. Just be faithful to the spirit.' You might have hits and misses. But it's always going to be fresh."