Pullman is 'Harry Potter for Grown Ups?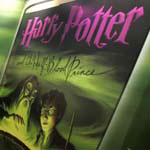 Jan 05, 2004
Uncategorized
This editor has always thought that Harry Potter for Grown Ups referred to this YahooGroups list. But according to The Western Mail, Philip Pullman's His Dark Materials is in another review that compares the trilogy to that-which-was-authored-by-Rowling.
It make one wonder if this is the message coming from the Pullman camp though the author claimed last November that he had read only one of the books and states that it wasn't among his favorites.