RUMOR: Variety says Atkinson to appear in GoF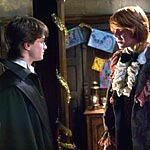 Jan 05, 2004
Uncategorized
According to a Film Production Chart from Variety, funny man Rowan Atkinson may show up in the movie Goblet of Fire. If I'm reading the chart right, production is scheduled to begin in April 2004, 2 months before Prisoner of Azkaban is released in theatres.
HARRY POTTER AND THE GOBLET OF FIRE

Daniel Radcliffe, Rupert Grint, Emma Watson, Maggie Smith, Rowan Atkinson

PROD, David Heyman; DIR, Mike Newell; SCR, Steve Kloves (news); DISTRIB, WB.

1492 Pictures/Heyday Films. 4/04, U.K.
Thanks to Lady Reason for the lead. As always, this is a heavy rumor – and one we've debunked before, but now that it' in Variety it has some weight. We'll try and find out more.