Two New Editors!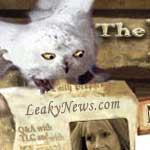 Jan 08, 2004
Uncategorized
We've got two additions to the Leaky/Floo family to announce today.
The first is Milly, known to Leaky readers as ixchelmala, who has been sending us tips and images for a long time and is known also to go on spy missions at 1am to get photos of advertisements from her local movie theaters. She's an absolute sweetheart and an imaging maven, and for both of those reasons we've made her the very first editor of The Hogwarts Galleries. For the past few weeks she's been researching the best way to present our image collection, and the site is being planned as we speak. We're thrilled to have her aboard!
We also have a new Leaky news editor by the name of Sue Upton. Sue sends us news on such a regular basis we figured the only way to get her to stop emailing us was to make her an editor.

In all seriousness, she has a terrific nose for news and tremendous enthusiasm for all things Leaky. We know she'll make a terrific addition. Here's her bio:
Sue Upton, a thirty-something member of the House of Hufflepuff, is an avid book reader. A member of the media, she loves music, movies , and all things Harry Potter. While patiently waiting for Sirius to step back out from behind the veil, she can most often be found browsing in Zonkos. If not at home in Ohio, she's probably down at the Three Broomsticks, or the Leaky Cauldron, sipping Ogdens Old Firewhiskey, and playing gobstones.
Welcome, Milly and Sue!