HP Book Six Death Derby Begins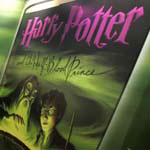 Oct 08, 2004
Uncategorized
There are several articles (CBS News here, thanks Bessie!) out today discussing the death of another HP character in book six (based on JKR's revelation that there will be more deaths, which isn't news to fans and while expected isn't specified for book six). This is our absolute favorite, from The Evening Standard:
Names in the frame include Harry himself, a long shot at 33-1; Hagrid, favourite at 3-1; and Dumbledore (4-1).

But perhaps it could be Harry's friends Ron Weasley ( 12 – 1 ) or Hermione Granger (10-1)? Harry and Hermione shared their first kiss in the last novel – an experience that left the young wizard feeling "tingling and paralysed" – so her death would create rather a stir.
Now, here's something all shippers can agree upon. What? We think this newspaper has those unfortunate Beijing versions of HP. Try Amazon.com, guys.