Student Refuses to Answer Potter Question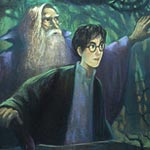 Nov 01, 2004
Uncategorized
A South African student refused to answer an English exam question about Harry Potter because he believes the books promote witchcraft.
The mother of eighteen year old student John Smit told Reuters "He wouldn't answer it because it supports witchcraft, and we're against witchcraft … the Bible is against witchcraft."
The family has written to provincial director of examinations to complain. Although they haven't responded, Smit's mother hopes the refusal will not count against him, as the question represented 30% of the exam.
African Christian Democratic Party MP Cheryllyn Dudley believes South Africa needs a better policy to avoid other pupils facing moral dilemmas during exams.
"I have read (the books), I have researched them thoroughly, and my personal opinion is that they are witchcraft manuals," Dudley told Reuters.
Thanks to Dorsie for the link.