New HP4U Goblet of Fire Set Report from Virginia Water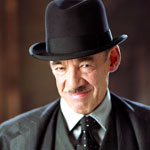 Nov 06, 2004
Uncategorized
HP4U.co.uk has posted another report from the filming of Harry Potter and the Goblet of Fire. Filming was taking place at the lake and wooded areas near Virginia Water Lake in Surrey, England, where the Hippogriff scenes from Prisoner of Azkaban were filmed. There are descriptions of a scene being filmed with Daniel Radcliffe, Emma Watson, and Bonnie Wright(Ginny Weasley).
Dan looked great, wearing grey trousers and black hoody. I caught him walking back to the set, enough time to say 'hi'. Emma also, back in another pink top for Hermione? And finally Bonnie, wonderful as usual and always time for a two minute chat. I even managed a quick signature.

Today's scene was some type of conversation between Dan, Emma & Bonnie, sat on a log type of creation right next to the lake, I could only really think it resembled a scene of contemplation for Harry, maybe at the end of the second task in GoF?
Click here for the full report. Please Note: At the end of the report there are 6 new photos of the set being used in the movie.