Trio Wins Otto Award and New Interview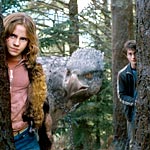 Dec 02, 2004
Jenna, from DanRadcliffe.com let us know about a new award the trio has won from German magazine Bravo. Daniel Radcliffe, Emma Watson, and Rupert Grint won the "Otto" award. There are scans from the magazine that also show photos of them inside the recent Prisoner of Azkaban DVD launch party, which you can see here.
There is also a new interview that trio conducted, along with director Alfonso Cuaron, for a program called "Film ab" which aired on German channel VIVA. They were asked about the PoA DVD, what they want to do for Christmas, and about the upcoming Goblet of Fire film. Says Harry Potter actor Daniel Radcliffe: "Alfonso directed a dark film, the fourth is going to be even darker, like the book is, and Mike is going further with that, and so I think he will be kind of – be just evolving, um – what Alfonso did. "
Click here to read the entire transcript.
Thanks very much to Jenna, and DanRadcliffe.com!