2004: The Year in HP: A Leaky Cauldron Review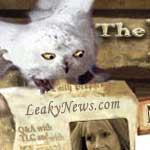 Dec 31, 2004
Uncategorized
Happy New Year everyone! Because 2005 is going to be such a big year for Harry
Potter fans, we thought now was a good time to look back at 2004, which
wasn't too shabby either where we're concerned. Editor Sue scoured our archives
and found all our 2004 highlights, so we hope you enjoy this little review,
which reveals 2004 as a strong mix of Prisoner of Azkaban highlights
and the unmitigated fun the fandom got in JKRowling.com. We know you'll
join us when we say: bring on 2005, the year of Goblets and Princes! It's going be a long one, but we're happy to take up our front page with this.
2004: A Year in Harry Potter Review, by TLC
January brought our first glimpse at the Prisoner of Azkaban
sets, with the first part of TLC's six-part fan-exclusive set
report, which included an interview with Dan Radcliffe, Emma Watson and
Rupert Grint. The interview marked the first (of many) times the kids talked
about the essays they wrote for Alfonso Cuaron, and featured this little bit
of canon-esque hilarity:
Q: How did you get on with the cat playing Crookshanks?

[Instant groans from the boys.]

EW: Oh, I love my cat! They are so rude to my cat!

RG: It's the ugliest cat.

DR: It looks like it's been thrown against the wall at birth.

EW: Okay, so it's got a flat nose.

DR: It doesn't have a nose! It's just 2D! It's like the cartoon cat!

EW: It's beautiful in its own ugly way.

DR: Notice the word UGLY.
As the month went on more and more little bits of Azkaban goodness
were revealed, including the LA Times interview
and photos, which were the first to reveal the pink hooded sweatshirt that
spanwed a thousand fan debates.
In February the Azkaban hype intensified, with many
trailers and exclusives, including the Super Bowl TV
spot and commercial
on Feb. 1, frenzy over Cho
Chang auditions, an international trailer (description,

video, screencaps)
on Feb. 17, a TLC exclusive
first-look at Wormtail and a TLC exclusive
first look at the Prisoner of Azkaban Web site. In book news, Smith
Barney projected
Harry Potter and the Half-Blood Prince for Summer '05 (but "more
likely" for Summer '06).
March came in like a Gryffindor Lioness, with a headspinning
World
Book Day Chat from J.K. Rowling. Several TLC readers had questions answered
and the comment thread (one of a few) on the subject reached 3,194
comments, all reeling over revelations about the Marauders, the ages of
the Weasley children (which she later had to re-clarify),
Hermione, Draco and more, and nursing wounds when she shot down some popular
fan theories. On March 6, TLC got
a new look and welcomed designer John Noe and on March 11 Jo Rowling lunched
with the queen. March 12 brought a moment of sadness as we remembered our
readers who were affected by the terrorist attacks in Spain the dya before. On March 14 we
got some tremendous
Azkaban photos, and the very next day Jo Rowling won the WHSmith
Book Award, her first major adult book accolade. USA Today revealed
some stunning Azkaban
photos
while on March 24 the Azkaban site went live, heralded by our exclusive
sneak-peek, complete with a new trailer
to make us all twitter. TLC's shot-by-shot
of the trailer went live the next day.
April was a lot of fun (no fooling), as it began with a visit
from the Leaky Cauldron's very own Tom
the Innkeeper, who came by to tend bar. A week later Tom
Felton debuted his site, and after that "Greg's
Preview" puts the Goblet release date where it still is, Nov.
18 2005. On April 18 the track
listings for the Azkaban soundtrack are released, and on April
27 we announce the
Azkaban IMAX event.
May started with the good ol' rumormill, as the Being
John Voldyvich rumor erupts, erroneously pinning John Malkovich as
Voldemort in Goblet of Fire. On the same day, Ain't It Cool News
posted a a review of Azkaban. May 4 began the furor over the HP
trading
cards (which we eventually compiled
into one master list); fans got the most extensive look at the movie yet with
the nearly scene-by-scene breakdown on the backs of the cards. That Sunday,
Harry Potter and the Sorcerer's Stone airs on ABC, with a special that
showed 10
minutes of Azkaban. Cho Chang is revealed
as Katie Leung by a tabloid, and the week
is just full of interviews with Azkaban cast. On May 15, the
fandom once again got turned on its ear by J.K. Rowling, as she redesigns
her Web site and places on it enough canon information to keep our head
spinning through the movie release. On May 23 the Azkaban premieres
began, as TLC attended the World Azkaban premiere in New York
and returned with video
and a transcript
of interviews. During press for Azkaban, Jo
Rowling says that clues for books six and seven are in film three. On
May 29 TLC attends the London Cast
and Crew Screening and on May 30, the European premiere. A short while after
that an editor promises reports of the premiere party and never delivers (quick
version: it was very cool). As an apology, here are never-before-seen pictures
of the Azkaban after-party.
June came with the worldwide premiere of Azkaban on
the 4th. The next day, scriptwriter Steve Kloves told the Baltimore Sun
that he thought Lupin was "in love with [Lily] in many ways." The next
day a rumor surfaces which is later proved true, that Stanislav
Yvaneski has been cast as Viktor Krum in Goblet. On June 14, Newsround announces Clemence Poesy as Fleur. Jamie Waylett
(Vincent Crabbe) opens his site
(though archives date back to Oct. 2003). On June 23, famous Potter fan
and poet Mattie
Stepanek, 13, dies after a battle with muscular dystrophy. Goblet cast
members Roger Lloyd-Pack (Barty Crouch), Pedja Bjelac (Karkaroff), Jeff Rawle
(Amos Diggory) and David Tennant (Barty Crouch) are announced.
Later that week, the infamous JKRowling.com hoaxer
strikes, claiming the title of book six is Harry Potter and the Pillar
of Storgé. Fans are baffled and theorize wildly for a full weekend,
though on Monday morning Jo Rowling updates her site to tell everyone to "get
a grip;" she also suggests
Harry Potter and the Toenail of Icklibõgg as a similarly likely
title, and later the Storgé moniker comes back on her site to
signify the utterly ludicrous, as in "pile of storgé."
Shortly after this debacle, the truth comes out: after what will be the first
of many break-ins into JKRowling.com's Room of Requirement, fans
find the true book six title, Harry Potter and the Half-Blood Prince
(at that time without the hyphen). However, with no explanatory note, fans,
now dubious after being storgéd, and despite assurances
from TLC (we told you!), remain ambivalent. TLC readers instantly
note that this was the working title for Harry Potter and the Chamber of
Secrets, and wonder if that means it is definitely or is definitely
not the book six title. The next morning Jo Rowling sets the
record straight and sends June 2004 down as one of the busiest months in
HP history.
In July, TLC's server overheated. We asked
you for help and you came through in
flying colors, leading the Chicago Tribune to write about how TLC's
fans sent them $12,000 in less than 24 hours for a new server and the new deal
with Idologic that will
help us stay in business a very long time. On July 8, Jo Rowling got a doctorate;
three days alter news of her
feelings about caged children in the Czech Republic leaks. Later she announces
that she is expecting
a third child. On the 23rd TLC
reports exclusively that Miranda Richardson will play Rita Skeeter in Goblet,
and on the 29th exclusively reoprts that rumored Voldemort Ralph Fiennes
is thisclose to signing a contract (both are confirmed
by WB on August 4). July 31 is Harry's and Jo Rowling's birthday, which which
we celebrate with art
by fandomer Marta.
On August 15, Jo Rowling appears at the Edinburgh
Book Festival, implying that Half-Blood Prince is at least half-written.
She answers
fan questions, revealing that there is a character in HBP called McClaggan,
confirms that the bartender in the Hog's Head is Aberforth Dumbledore, and tantalizes
with many other goodies; fans oblige by theorizing like wild once more. The
next day the door
on her site opens once more to reveal what we can only assume was an excerpt
from HBP. A week later we are thrilled to report exclusively the biggest
news there EVER WAS! (That there
will be a hyphen in the title of Half-Blood Prince, in America
and England, despite it not being used on JKRowling.com. Happy to bring you
punctuation news, we are, here at TLC.) In late August we got back
to Goblet news, with photos of filming
at Bodlian library surfacing.
In early September, the identities of the Patil twins are
revealed as Shefali Chowdhury (Parvati Patil) and Afshan Azad (Padma Patil);
also announced is Angelica Mandy as Gabrielle. The next day Devon
Murray launches his official site. On Sept. 26 the auction of a Jo Rowling
minibook for charity is
announced; the Tatler runs a preview
in October and it sells
for 20,000 GBP on Nov. 2.
On October 5, TLC reveals
its HBP FAQ: "Everything there is to know about Harry
Potter and the Half-Blood Prince (If You're Not J.K. Rowling)," a
compendium of information on HBP and the rest of the Potter series.
Later Jamie Waylett reveals
that the cast is singing "Hoggy Hoggy Hogwarts" in Goblet.
Photos of the Quidditch World Cup tents begin
to surface, and the first
report of Franz Ferdinand playing the Weird Sisters hits the net, which
is later debunked
when Ferdinand's name is replaced with Radiohead guitarist Jonny Greenwood.
Jarvis
Cocker is rumored as scoring the film but it's the Patrick Doyle rumor that
sticks; we later learn that Cocker is to
be a Weird Sister. Halloween brings a treat from Jo Rowling in the form
of three
HBP chapter titles.
In November, Lightmaker wins
a big award for their work on JKRowling.com,
and explains some of the inner workings of the site. On Nov. 8, the official
WB sweepstakes
begin, promoting the Azkaban DVD. A photo
of the Death Eaters' destruction in Goblet hits the net.TLC attends
the DVD launch party for Azkaban and returns with loads of interviews,
an exclusive report (part
one, part
two) and the news that producer David Heyman is "cautiously
optimistic" that the three main kids will return for the film of Harry
Potter and the Order of the Phoenix. On the 22nd TLC exclusively
confirms many Goblet cast members and provides the first picture
of Angelina Johnson; on the 29th our exclusive
interview with Goblet intern Greg Anderson goes live.
December was our holliest, jolliest month in a long while,
bringing some decorations to all the HP sites (started
by Jo Rowling's). At very long last TLC announces its Sweepstakes
winners and announces themselves the happiest people on earth to do so.
On Dec. 3 TLC's third "Get
a Clue" drive begins (results to be announced in January), and later
includes a very
special message from Jamie Waylett, Matthew Lewis and Devon Murray. Azkaban
is nominated for a Grammy,
the Broadcast Film Critics nominate
Dan, Emma and Azkaban. Late in the month, the real excitement begins:
a sharp TLC reader tells the fandom that there has been a
tweak to JKRowling.com's front page that suggests that book six is near
or completely finished. On Dec. 20 Christmas
itself comes early as Jo Rowling confirms that HBP is finished and that
we will have a book releaes date in less than 24 hours; about 14 hours later
publishers announce that the
book will be released on July 16, 2005, and the earth shakes with all the
worldwide cheering. We end the year on a sadder note, joining
the world in mourning the many, many thousands who perished in the South
Asian Tsunamis. Today, we got our first look at Miranda Richardson as Rita Skeeter, and we published this report!
And that's where we are now. The 2004 news was just a sampler
for what's coming in 2005 – so we wish you all a happy, healthy and safe New
Year. We can't wait to bring you another year full of news, theorizing, hand-wringing,
and fun. We've got a book, a movie and a lot more to look forward to. See you
next year!