All the World's a Stage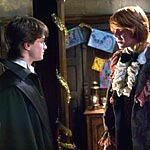 Dec 09, 2004
Uncategorized
As we know, some of Great Britian's finest actors appear in the Harry Potter films. These actors are also known for some of their work in the theatre. Several of our favourite actors will be returning to the stage in the near future, as well as performing in some new motion pictures as well.
Ralph Fiennes (Lord You-know-who in Goblet of Fire) will return to the London stage in Julius Caesar. Mr. Fiennes, well known for his work as a Shakespearian actor, will play the role of Mark Antony.
Alan Rickman (Professor Snape) will direct a one woman- show at the Royal Court Theatre in April, 2005. Mr. Rickman was recently cast in a new film Perfume, also starring Dustin Hoffman.
Richard Griffiths (Uncle Vernon Dursley) is currently starring on stage at The National Theatre in England in the play The History Boys for which he is receiving great acclaim. Mr. Griffiths was recently nominated for The Evening Standard Drama Award as Best Actor.
Julie Walters (Molly Weasley) is set to appear in the musical Acorn Antiques, which opens in Feb., 2005.
Michael Gambon (Albus Dumbledore) will be on stage in the role of Falstaff in Henry IV Parts I and II performed at London's National Theatre in the spring of 2005.
Thanks to Peter, Liz, Franziska, and all the readers who send these in!