GIVE A GALLEON Update and Special Message from the HP Cast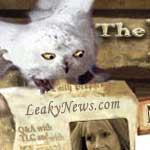 Dec 09, 2004
Uncategorized
We're halfway into our GIVE A GALLEON drive and more than half our inventory is gone, so get moving – give a Galleon, get a sticker and support literacy all at once.
A few of your friends from England wanted to tell you the same. They really wanted to say, nice and simply, to Give a Galleon to support literacy. And they tried. Really, they did. Here's what happened when Jamie Waylett (Vincent Crabbe), Matt Lewis (Neville Longbottom) and Devon Murray (Seamus Finnigan) got together to do a little public service announcement for TLC. (Made possible by the good people at Streamload.)
So, how do you order these stickers that support literacy and crack these actors up at once? It's simple. Click below.

Stickers (seen at left and available in sticky, for any surface, and in static, for windows) are $4.82 each (CNN's estimate of a Galleon) – every dollar above cost in this drive goes to Book Aid International The easiest way to order is by PayPal – especially for international users, as PayPal will help you convert your currency. NEW THIS YEAR: You don't need a PayPal account to use PayPal; just click on which type of sticker you want and adjust the quantity in your shopping cart. Use the buttons below:
To send a check or money order, do so to:
Leaky, Inc.
P.O. Box 40559
Staten Island, NY 10304
PLEASE make SURE you include a note containing your order – how many of each kind of sticker you want – and that you include
your correct address and e-mail so that we can contact you with any problems.
We ask that you add $1 for every order under $50 and $2 for every order between
$50 and $100, to pitch in for envelope costs. If you are ordering from abroad
we ask that you calculate your total in USD, and then convert it to your currency.
As the stickers are very light, your shipping is included in the price of your
item. WE MUST receive these checks/money orders by December 13 to ensure
shipping.
If you'd like to donate without ordering a sticker, please
do! We are constantly humbled by the generosity of the fans of this site and these
books. If you'd like to donate through PayPal, please do so using this button:
And if you can't order or donate, you can still help by getting the word out to your friends, your families, your favorite sites, the press
in your area, and by displaying the icons, buttons and banners we will provide
to you shortly (we promise)!