"Unfortunate Events" actor Liam Aiken once a Harry Potter Contender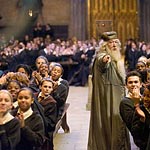 Dec 09, 2004
Uncategorized
There is a good interview in New York Metro with actor Liam Aiken, who stars as Klaus Baudelaire in the new film "Lemony Snicket's A Series of Unfortunate Events " based upon the children's book series of the same name. The young actor Liam Akien at one point was favoured by director Chris Columbus to have the role as Harry Potter in the Sorcerer's Stone film.
But that was nothing compared with Harry. In 2000, paparazzi stalked his home, and British tabloids ran his picture under headlines like AMERICAN IS CONJURED UP TO PLAY POTTER. Director Chris Columbus was set on him. But Rowling decreed that only a full-blooded Brit could play Harry (Moya is Irish; her husband was American). "I know it sounds weird," says Moya, "but I remember Liam was so relieved."


"I think I had this feeling that it wouldn't work out," agrees Aiken, in a fatalistic, Snicket-like manner. "But it was fine. I hadn't done much before, and I would have just been Harry Potter from then on."
The Lemony Snicket film also stars Harry Potter actor Timothy Spall (Peter Pettigrew) as Mr. Poe.
Thanks much to Marie!