Cho Chang update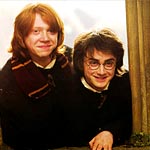 Feb 27, 2004
Uncategorized
Today an interview in Bexhill Today was published about a 15 year old named Natasha Neeson who was in the final group of girls auditioning for the part of Cho Chang in the "Goblet of Fire" movie. Matthew from Veritaserum interviewed her, and she says that the part of Cho Chang has been cast, but she was not chosen for the role. When asked about possible confirmation from the casting director Natasha had this to say:
Natasha:
We were given the script, and then one at a time we went in and were filmed, whilst being watched by Mike and the casting direcrors. And, whilst waiting in the cafe, I made really good friends with the other girls and got their mobile numbers.
Natasha:
And Fiona told us she would ring by Friday, the 20th to tell us whether we had the part, but paper delayed the article. Anyway, Fiona rang around and started telling some Chos last Thursday night that they hadn't got the part.
Veritaserum.com:
Did she tell you that?
Natasha:
Loads of the Chos rang me and told me they hadn't got the part, but Fiona still hadn't rung me. However, she rung me later on Friday saying she wished I could have it, because I was a terrific actress, but that I looked too old on screen. So, I'm guessing they have chosen their Cho by now. And it's good to say that I've met her!
You can read the entire interview at the link above.
Warner Brothers has not confirmed this, nor do we have the name or picture of the girl possibly chosen for the role of Cho Chang. We will update when we find out more.
Thanks Matthew!