Portion of New Trailer Available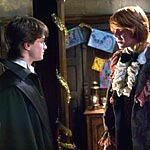 Mar 20, 2004
Uncategorized
Mugglenet has a portion of the new trailer available for the downloading.
Admin note: We've taken down our link pre-emptively, because the same reasons the early pictures were removed apply to this leak; it's probably only still on the net because it's Saturday, and no one from WB is in their offices. We can tell you that it won't be long at all – sometime this week – before there is a real version of this trailer available. So hang tight. – Melissa
Update #2: Mugglenet has now removed the clip.