Rickman Interview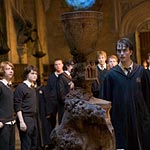 Mar 22, 2004
Uncategorized
From HarryLatino.com comes this interview with Alan Rickman who was recently in Argentina.When asked if he will be returning for the Goblet of Fire movie, Mr. Rickman says "eventually". Read the translation of the interview below. Thanks Andre!
Alan Rickman in Argentina
The actor that plays professor Snape is in Mar del Plata where the most
important latinamerican cinema festival is taking place. He talked a
little
about the movies in which he will play again Snape.
What can you tell us about the new Harry Potter movie?
I don't talk about Harry Potter.
Is that forbidden by the contract?
No, it's just because I don't want to speculate with something in which
children's inocence is at stake.
But you are in the third one, aren't you?
Yes.
Have you started the fourth one?
They have. I haven't.
But you'll be there?
Eventually…