GoF Casting Rumor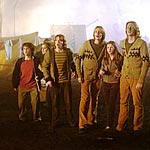 Mar 23, 2004
Uncategorized
Sites all over the Internet are reporting that 29 year old Titanic actress Kate Winslet was asked to consider the role of Fleur Delacour in the upcoming film version of Goblet of Fire. This was supposedly commented on by her husband, director Sam Mendes, in an interview with Access Hollywood.
Please remember that we (strongly) consider this a RUMOR, especially as we've seen recent interviews given by Kate (in which the part is not mentioned), but not the interview in which her husband Sam supposedly made this remark.
We'll keep you updated.