JKR Transcript Update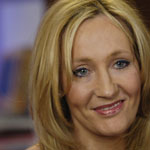 Mar 04, 2004
Uncategorized
A full transcript of the chat is here, with the questions in order. (Phew!) Among the many revelations (no spoilers here, you'll have to read the chat!): which house at least three of the Marauders were in; clarification on the ages of the Weasley children; the kids' middle names; whether or not Hermione is an only child; whether or not Draco is an only child, and much,much more, too much to repeat. She shot down some very popular fan theories and teased with more info about book six (though no title or release date). All in all more information than we fans have grown accustomed to at once; listen closely and you can hear Steve Vander Ark leaping for joy – something tells me we'll have a Lexicon update soon…
JKR said at the end of the chat that there were 16,000 questions asked of her.
And congrats to TLC readers Sirius Kase, Kelly, Martje and the others who got their questions answered by the lady herself! Enjoy the transcript, and feel free to go to town discussing!