More Products Hit the Web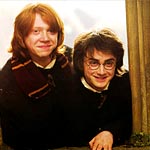 Apr 01, 2004
Uncategorized
Uh – Tom, I know you said 'the pub is closed' – but do you mind if I make a quick post? It really does keep the Muggles happy, and wouldn't you rather have them that way than – well – the alternative?
Fran from Totally Harry Potter sent links to a couple of new products – all take you to Amazon.com:
We posted links to the new calendars here. Thanks, Fran!
And thanks, Tom! Back to you.