Hollywood.com PoA Set Visit Report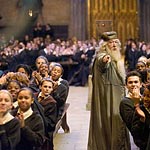 Apr 21, 2004
Uncategorized
Hollywood.com has up a report of their visit to the Prisoner of Azkaban set at Leavseden – readers will recognize many of the questions from TLC editor Melissa's visit to the same set.
From Hollywood.com:
The trio of young actors have definitely become more confident since their tenuous first days as Harry Potter icons. Sitting around a big wooden table next to a makeshift Hogwarts' courtyard, complete with a real pear tree, it's easy to see how the three friends have established a nice, easy and genuine rapport between them.
Grint still isn't much of a talker, (and oftentimes inspires great laughter from his co-stars with his short, nondescript answers) and Emma is still a little shy–but Daniel has by far emerged as the group's eloquent spokesman. He's a much different boy now from when he first started out.
Thanks, Amy, for the link!