New PoA Image in Entertainment Weekly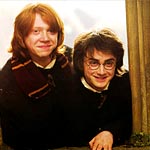 Apr 23, 2004
Uncategorized
Kaylan from One Take Watson scanned in an image from the April 30 issue of Entertainment Weekly – you can find it here. Robbob also tells us about an article in that issue, which has EW's predictive "good" and "bad" news:
THE GOOD NEWS A provocative, potentially electrifying makeover.
THE BAD NEWS Any makeover has its risks- especially one of debatable necessity. Getting it even slightly wrong could cost Potter some box office magic.