Daniel Radcliffe Interview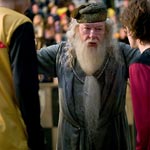 Apr 27, 2004
Uncategorized
The Sun has an excerpt of an interview with Daniel Radcliffe. The full interview can be found in the next two issues of Empire Magazine. Thanks, David and Milly!
Q: Have you gone back and watched the first two films at all?
A: I haven't seen the first one in a few years. I don't want to watch it. I won't go back while I'm doing the fourth one.
Actually, I was flicking through the channels one day and I saw a bit of the first film and I genuinely thought there was something wrong with the sound because our voices were so high.