High Res PoA Images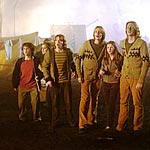 Apr 28, 2004
Uncategorized
MuggleThai has up new high res photos from the movie – the updates are shown on the main page, or you can link directly to their PoA Gallery. Some are variations on shots we've seen before, but several are new, including one where Ron is leaning on a crutch (this editor's favorite: check out Hermione's expression in the photo where Trelawney is examining her palm)!
Thanks to Rowena for the link!
EDIT: Mugglenet is helping MuggleThai out by hosting the images as well, as MuggleThai seems to be having bandwidth issues – you can access those here. And please remember, folks – linking directly to an image is considered bad Net etiquette, as it's a drain on the bandwidth of the hosting site. If you want to share a link to an image, use the link to the news item post, not to the image itself (here at Leaky, you do that by clicking on the time-of-post hyperlink, which appears right after the posting editor's name).
Thanks to Mugglenet for the images!