POA Movie Review/Malkovich Rumors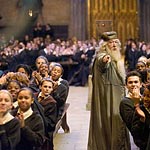 May 01, 2004
Uncategorized
Aint it Cool.com has a brief review of PoA posted. The review is not detailed, but does contain some spoilers. Caution to parents: Site has mature content.
Worth noting -AICN has linked to the CBBC Newsround article that we recently posted, in which WB denies that actor John Malkovich has been cast as Lord Voldemort in GoF. Many TLC readers have sent us this link to IMDB, which says that Malkovich was cast, but as AICN points out, IMDB also confirmed that Rowan Atkinson was cast as Voldemort, another rumor squashed by the BBC.
Unless the WB issues a 'just kidding, we did cast Malkovich!' press release, please take further reports that the actor is Voldemort with a grain of salt.