New UK Trailer?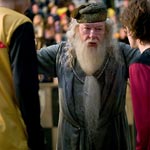 May 10, 2004
Uncategorized
TLC readers have written us telling of a new POA trailer that is being shown in the UK before the film Van Helsing. While most of it is described to be like the newest French trailer for POA, there are some new scenes. Two include the confrontation between Harry and Sirius in the Shrieking Shack,and a transformed Moony and Padfoot fighting. Click below to read the description of the new trailer. Thanks everyone, esp. David and Simon!
Update: David wrote in to add a few more details (see below) and to tell us the trailer runs around 2 and 1/2 minutes long.
* Opening shots of the Hogwarts Express. It zooms slowly
in, closer then before, as we see the lights slowly flickering out. We then cut to Lupins water freezing, and the Dementor entering the carriage.
* more Dementor scenes, including the bottle of water
freezing on the train, a flower freezing next to the lake as a dementor flys by, and them flying around with harry during the quidditch match.
* shot of Sirius screaming on the wanted poster and Arthur asking Harry to not go looking for black etc
* we hear 2 lines of dialogue from Sirius. one with him on the ground with harry on top of him; Sirius says "You going to kill me Harry?", and another of him saying something provoking in the shack.
* Trelawneys 'prophecy' in the strange deep voice, talking about blood being spillt tonight
* Dumbledore saying something can't remember what,
possibly something about being especially careful.
* "if you want to kill harry you'll have to kill us first."
* a shot of the wolf and harry/ron, Ron says "nice doggy" –
as Lupin is finishing his transformation (presumably sirius has been thrown aside or something?!?!)
* Transformed Padfoot and Moony fighting which comes near the end of the trailer. We just see them soaring through the air over the kids towards eachother about to have a major-fight. Padfoot is a big hairy dog. Moony is a skinny long limbed werewolf (as we know).