New PoA Stills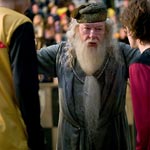 May 12, 2004
Uncategorized
Mugglethai wrote to tell us they have eight new film stills, including a beautiful shot of Hermione and a shot of Gryffindors admiring Harry's beautiful new Firebolt.
Thanks, guys!
p.s. We know we've reminded you before, but it's going to be a high bandwidth month for all the Harry Potter sites, so we want to mention it again – please don't direct link to images (and by image, we mean if when you click on it, the URL in the address bar ends in an image file: .jpg, .gif, etc. instead of .htm, .html, or something else).
Several people have written to ask what we mean by that. This excellent page puts it this way:
You can also think of bandwidth similar to the electricity your refrigerator takes to run. When someone links directly to an image on someone else's server instead of copying it to their own computer and then uploading it to their own server, it is similar to your neighbor running a cord over to your outlet to run his own refrigerator.
If you want to share an image with friends, either download it and save it to your own computer to upload to your own server/email, or in the case of Leaky, click on the title of the post or the time of post link (just after my name, below) to get a direct link to the news item.
Thanks for your cooperation – we all appreciate it!