Washington Post on PoA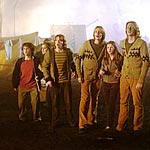 May 12, 2004
Uncategorized
Thanks to DanRadcliffe.com for pointing out this Washington Post interview with director Alfonso Cuaron, which includes this:
Q: How closely can you, and must you, stick to the book?
A: I was very happy that very early on I had great advice from J.K. Rowling: "Be faithful to the spirit of the book, don't be literal." . . . There are a lot of things we lose because we do not have the time. So . . . we decide to stick to this theme of this rite of passage. Whatever sticks into that theme we keep it in, and leave out whatever not. [Some things got kept in the movie because Rowling said they will have an important part in a future book.]
Note: The Post has started requiring (free) registration to read; you may have to register.