Harry Potter and the Fight for Free Speech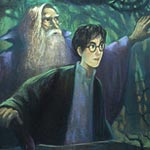 May 13, 2004
Uncategorized
The American Booksellers Foundation for Free Expression (ABFFE) is organizing a fundraiser around the June 4 release of Prisoner of Azkaban, selling limited-edition T-shirts and buttons emblazoned with the slogan: "Fight for Harry Potter and Free Speech for Kids!"
This is an issue near and dear to many of the Leaky editors' hearts (especially this one) – and not just for kids. Proceeds will support ABFFE's anti-censorship activities, including overturning bans on Harry Potter books in school libraries, an effort in which hey have already been successful twice.
You can order merchandise to support this cause at the online store. Supplies are limited, and orders are already being taken. A license has been granted the effort from Warner Brothers, so all items are official.
Thanks Cheryl!