Family from Webster Wins ABC Sweepstakes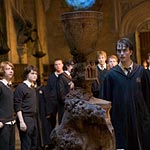 May 13, 2004
Uncategorized
A family from Webster, NY, has won ABC's sweepstakes and will soon be flying off to London for the PoA premiere, according to the WOKR-TV 13 Rochester News.
The kids are hoping to meet the stars and they even have a "homework" assignment from friends at school.
"They asked me to bring my books and if I meet the stars have them sign it, are they jealous? Yeah, pretty much," said Ericka.