New Trailer Description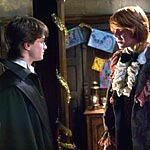 May 13, 2004
Uncategorized
We've received several emails about new POA commercials that are starting to air. Kate writes us with details of one commercial that includes Harry eating the pepper imp candy. Click below to read the details. Thanks Kate!
* Lots of new new footage, including a funny scene of all of the guys from Harry's dorm in their pajamas, having a good time, eating candy and drinking butterbeer (i think you had a still of this on your site today). They're in their room and Seamus had his Gryffindor tie wrapped around his head (hilarious) and Harry is laughing like crazy they're all eating candy and generally being silly boys. Ron says, laughing, "No Harry, don't eat thaaaaat one!" and Harry eats the candy and stream blows out of his ears and everyone laughs.
*There's also a scene of the Whomping Willow attacking Hermione before it attacks Harry by the neck (at least, there was a flash of pink so I assume it's Hermione in her jumper). I think this has been seen previously, but this was more detailed.
* There is a very clear shot of Prongs and a different version of Harry holding Hermione just before she actually falls to the ground.
* After the scene that we've all seen with Hermione hitting Draco Malfoy, we overhear Harry saying, "It's about time!" to Hermione and she smiles.
It's a much lighter-themed trailer compared to the rest, albeit shorter. Almost all of the shots used are funny and/or of the trio having fun. And almost all the shots used were new.